I feel like every time I turn around a new award pops up. Which it feels pretty darn good to get these babies. Even if it takes me FOREVER to pick new blogs to give it to. :) That's the main reason I procrastinate on posting these babies.

So let's start! *cracks knuckles*



Rules:
The Lemonade Award is a feel good award that shows great attitude or gratitude. Here are the rules for accepting this award:
-Put the Lemonade Award logo on your blog or post.
-Nominate at least 10 blogs that show great attitude or gratitude.
-Link your nominees within your post.
-Let the nominees know they have received this award by commenting on their blog.
-Share the love and link to the person from whom you received the award.

Here is my list of nominees:
Emma at Booking Through 365
Kim at The Book Butterfly
Andrea at The Little Bookworm
Liz at Booklover
Nicole at Books and Bards
Sara at The Hiding Spot
Kate at The Neverending Shelf

Check out their awesome blogs if you haven't already!



The blogger who receives this award believes in the Tao of the zombie chicken - excellence, grace and persistence in all situations, even in the midst of a zombie apocalypse. These amazing bloggers regularly produce content so remarkable that their readers would brave a raving pack of zombie chickens just to be able to read their inspiring words. As a recipient of this world-renowned award, you now have the task of passing it on to at least 5 other worthy bloggers. Do not risk the wrath of the zombie chickens by choosing unwisely or not choosing at all...
This award is AWESOME! And I'm super freakin' excited to get it. Funniest one EVER.
Here is my list of nominees:
Shayla at
The Book Explorer
Kay at
You 2.0 Blog
Lee at
Lee A. Verday's Book/Writing Blog
Sarah at
Green Been Teen Queen
Tina at
Fantastic Book Review
Kristi at
The Story Siren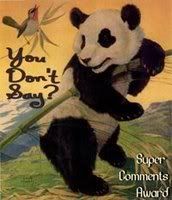 My nominees:
Mishel at
mis(h)takes
Jazz at
Miss Danaidae
Vivienne at
Serendipidity
WilowRaven at
Red House Books
Celi.a at
adventures of celia bedelia
My nominees:
Bianca at
A Place for Wicked Good Books
April at
Good Books & Good Wine
Samantha at
Harlequin Twilight's Book Blog
Melanie at
Melanie's Musings
I know, I'm choosing random amounts, but oh well. I'm getting tired. So tired I don't know if I have the energy to leave comments notifying all of these peeps. We'll see... it's a long list.. :)
Thanks again to everyone who nominated me for these! And also, check out the blog links okay?