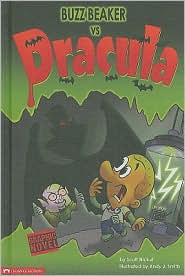 Buzz Beaker vs Dracula
by Scott Nickel
Illustrated by Andy J. Smith
Dracula has kidnapped Buzz Beaker and is holding him hostage to build a machine to allow him to be able to go out in the sun. Dracula misses hanging out at the beach and getting a tan. Well, Buzz Beaker is happy to help - even though he was kidnapped - and ends up helping Dracula fight against his own minions who turned against him!

I really am loving the Buzz Beaker graphic novels. Definitely running along the lines of Jimmy Neutron, Buzz is an African-American boy who has a series knack for inventing cool scientific devices. The books include a lot of information after the story ends - including vocabulary words, discussion questions, writing prompts, and more about the subject covered.

A great way to get kids interested in science and reading.

5/5 Roses

*This book was given to me for review by the publisher.