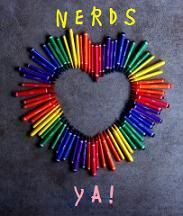 So, I participated in
Nerds Heart YA
this year, which is a battle of the books. I read two books with my partner Anastasia of
Birdbrain(ed) Book Blog
and here's what we thought of them and what we decided.
Finding Family
by Tonya Bolden
Delana has never known her parents. Raised by her Aunt Tilley and a reclusive grandfather, Delana has led a sheltered existence, nurtured on her aunt's wild family histories. But when Aunt Tilley dies, Delana confronts her pent-up curiosities and embarks on a quest to unravel her aunt's fictions and draw out her mysterious grandfather. In searching for her true history, Delana finds herself, and a home in the one place she never thought to look. This moving fictional story is imagined from real antique photographs that author Tonya Bolden has collected. Bolden's well-researched historical details about 1905 Charleston, West Virginia lend authenticity, while spare, lyrical writing make this young girl's coming-of-age resonate.
I read this book first and really enjoyed the visual the old photographs gave to the story about a girl who is finding out the truth about her family after being sheltered from it her whole life. I definitely think it gives a look into the world during that time period in history and tells a story about family, grief and hidden family secrets. The author did a fantastic job with Delana's character of a girl who has been sheltered and finally breaking free from childhood into adolescence.
Toads and Diamonds by Heather Tomlinson
Diribani has come to the village well to get water for her family's scant meal of curry and rice. She never expected to meet a goddess there. Yet she is granted a remarkable gift: Flowers and precious jewels drop from her lips whenever she speaks.

It seems only right to Tana that the goddess judged her kind, lovely stepsister worthy of such riches. And when she encounters the goddess, she is not surprised to find herself speaking snakes and toads as a reward.

Blessings and curses are never so clear as they might seem, however. Diribani's newfound wealth brings her a prince—and an attempt on her life. Tana is chased out of the village because the province's governor fears snakes, yet thousands are dying of a plague spread by rats. As the sisters' fates hang in the balance, each struggles to understand her gift. Will it bring her wisdom, good fortune, love . . . or death?
Toads and Diamonds was a book that took me by surprise. It had such an intricate world that it was set in that you are drawn right into it from the beginning. The two sisters are given these gifts that are both treasured but changes what they do with their lives so completely. Told from both of the girls in alternating chapters, you get a wide glimpse of their personalities, their desires and how they handle the challenges that face them. As much as the book ended in a way that really worked, I longed for more after I closed the book, it was that involving.
Both books had such merit and memorable characters, but when it came down to it Anastasia and I decided we both fell in love with
Toads and Diamonds
and are choosing that one to go forward.