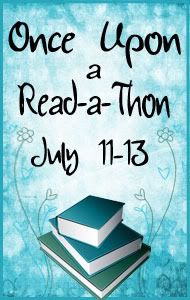 I just love readathons and have been needing a bit of a kick in the butt this week to read more. So, today starts the Once Upon a Readathon, hosted by Reading Angel. Click
here
for details.
I started off this morning by picking up my Kindle and starting into Ultraviolet by R.J. Anderson, which I'm already 35% of the way through. It's really good. My older sister is coming over later today so I won't have all day to read, but I'm already getting a good start.
Not sure what I'll be reading next but I'm sure to read some manga, more ebooks, and hopefully finish reading Die for Me by Amy Plum, which is good, just a little too ... formulaic of the YA paranormal romance genre, which is putting me off.
Anywho, I will be updating the next few days, so stayed tuned and wish me luck! :)
Day 1 update:
Well, today I read two books. An ebook and a manga. My sister was over with her kids for a few hours so I couldn't read all day.
I read:
Ultraviolet
by R.J. Anderson (ebook, 306 pages)
Bakuman vol. 2
(manga, 200 pages)
Did the mini-challenge from
The Musings of Almybnenr
. This involved finding which books belonged to the cover clips she provided. :)
Day 2 Update:
Read:
Spellbound
by Cara Lynn Schultz (ebook, 324 pages)
Scott Pilgrim's Finest Hour
by Bryan O'Malley (manga, 248 pages)
Bakuman vol 3
(manga, 192 pages)
No challenges completed.
Day 3 Update:
Read:
January (Conspiracy 365)
by Gabrielle Lord (print book, 192 pages)
The Mysterious Howling
by Maryrose Wood (audiobook, 288 pages)
Total books read: 7
Total pages read: 1,750
I think I did rather well for being somewhat busy two out of the three days. :)