This fantastic meme is now hosted by Sheila at One Person's Journey Through a World of Books.

Read this past week: (reviews should be up later this week)
Benny and Penny in the Big No-No by Geoffrey Hayes
The Mark by Jen Nadol
Hearts at Stake by Alyx Harvey
Flyte by Angie Sage
All Shook Up by Shelley Pearsall
Forbidden Sea by Sheila A. Nielson
Frankie Pickle and the Closet of Doom by Eric Wight
The Wonderful Wizard of Oz by Eric Shanower
The Cave by Steve McGill
Dork Diaries by Rachel R. Russell
Hatter M: Mad with Wonder by Frank Beddor
Kin by Holly Black
Kith by Holly Black
Dreamland Chronicles Book One by Scott Christian Sava
Crogan's Vengeance by Chris Schweizer
Little Black Lies by Tish Cohen

(Yes, 16 books - I know, insanity!)

Currently Reading:
Rapture of the Deep by L.A. Meyer
Border Crossing by Jessica Lee Anderson
Bones of Faerie by Janni Lee Simner

Upcoming:
Watersmeet by Ellen Jensen Abbott
The Castle of Galomar (New Brighton Archeological Society) by Mark Andrew Smith & Matthew Weldon
Bonecrossed by Patricia Briggs
Dead Guy Spy by David Lubar

Affiliates news!
Things are a little crazy this weekend with my read-off - so I'm simply going to announce my new associates!

Alethea from Read Now Sleep Later: Alethea is a long time buddy of mine from Goodreads and was glad to see her back at blogging. She's been a great support and friend to me online and I really love what she has to say about books! :)

Misty from Book Rat: Misty is an awesome blogger who I've met personally and absolutely love! Her blog is a growing monster and I love all the stuff she has going on over there. Not only that, she works at a library and you know how I love my fellow librarians! :)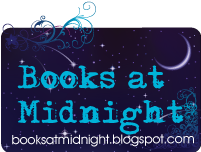 Jenn from
Books at Midnight
is an AWESOME gal and blogger. I love her super in-dept reviews (which I have no knack for personally) and her awesome ideas that keep sparking up. If you haven't seen her blog before, you must take a look because it's gorgeous and well, I just love her reviews - a ton!
Elie from
Ellz Readz
is another fabulous blogger who I just love. She loves YA fiction and is a serious Urban Fantasy addict (much like myself). I am in love with her Got Ink? weekly meme which features really cool tattoos on people, book covers, and more. I love how many tattoos are out there that have literary inspirations! :)
April from
Good Books and Good Wine
is another great friend of mine from Goodreads and well, if you've been on her blog, you've got to appreciate her. She's an awesome gal who reads widely and has fun doing so.
I know I said I'd stick to ten .. but... oh well - I chose one more.
Monica from
The Bibliophilic Book Blog
runs a fantastic blog that explores a variety of literature and hosts some really fun events. One of which just passed - Bookmark Day! I absolutely adore her blog and can't wait to know her better as an affiliate!
So, welcome you guys to affiliate-ship. I can't wait to get to know you guys better and collaborate on some fun bloggie projects! I'll have a page up this week for affiliate links and buttons and will be emailing all of you about upcoming events. :)
Also, after taking to Kate from
The Neverending Shelf
, I decided I'd slow down on updates and just run some contest ads unless there's a big event one of my affiliates is hosting. Thanks again for those who filled out the form - I had a hard time choosing!
In Other News:
Monday was the only day I went out and met an author - Carrie Ryan was in town visiting! I dragged the hubby with to Anderson's and had a great time. Towards the end of the event, Carrie was asked what books she read lately that she'd recommend. She talked about the Debs website she was apart of and then pointed out Kristina Springer and Kristin Walker who were sitting in the back as new authors. I had no clue they were coming! I feel like I'm stalking them we've seen so much of each other lately. I hung around a little at the end and chatted with them and then left them to a possible authorly night out. :) And, some pics below.

Kate and I are holding a contest until tonight (10 pm CST) to see who can read the most pages. I had a four-day weekend and we figured we'd go for gold on reading - which lead us to a friendly competition - Red vs. Blue Read-a-thon. Check out my updates and pages read so far.
The Poster
Myself and Carrie Ryan
From Left to right:
Kristina Springer, Kristin Walker, Page Turners blogger, Carrie Ryan, another blogger (can't remember name), and me.