Today I have one of my affiliates as a spotlighted blogger! Eleni from La Femme Readers - check out what her blog is all about below!

Name: Eleni
Nickname and/or blog name: La Femme Readers
Blog URL: http://lafemmereaders.blogspot.com/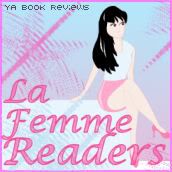 Tell me a bit about yourself.
I'm 24 years old, going to be 25 in June and I live in New York. I am an avid reader, there isn't a moment where I don't have a book with me. I also love to hang out with friends and my fiance, listen to music, watch movies and of course blogging. I graduated with a degree in English and I am continuing my education either in the teaching or publishing field.
When and why did you start your blog?
I started blogging in late of May 2009. I started blogging because I really enjoyed talking about books with my friends. Unfortunately most of them don't read like I do. So, I found blogging as an outlet to express my love for books with others.
What is your blog all about? Any cool features you want to share?
La Femme Readers is a book review blog that mainly focuses on Young Adult Fiction. I also have author interviews, fun giveaways and try my best to keep my followers updated on all the amazing up and coming YA book releases.
What are some of your favorite genres and/or books currently?
I love YA, especially Urban Fantasy and Supernatural.
How do you find out about the books you read?
I research a lot online. I always like to keep my Friday Finds up to date. I enjoy promoting new authors and also introducing books to my followers.
Any tips or advice for those starting or thinking about starting a blog?

It's definitely hard work. But, if you're really serious about blogging, just have fun with it and definitely try to stay organized! Sometimes balancing a blog and an outside life does get overwhelming so time management is the key. :)



Eleni has some awesome contests going on and she's great and lists them all first thing on her site! Check out her site to see what she's giving away!



Thanks Eleni for stopping by and sharing more about your awesome-tastic blog!
Stay tuned for a guest review by Eleni!
If you're interested in being a spotlighted blogger, please fill out this form.