Today, I have with me a blogger who is unusual for quite a few reasons. First off, a guy blogger??? YAY! :) We need more guys that love reading enough to start a blog. Also, Alex started reviewing books on YouTube before he started his blog - isn't that interesting? I have yet to do a review vlog.. but maybe I should try it out sometimes. Anyways, to learn more about this awesome book blogger, keep reading!

Name: Alex
Nickname and/or blog name: Tales of a Teenage Book Lover
Blog URL: http://alexreadsbooks.blogspot.com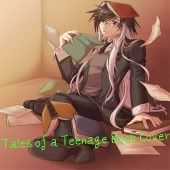 Tell me a bit about yourself.
Well... I'm Alex(ander). I'm a student in 8th grade. I live in the middle of nowhere and use books to take me to other places. A long with reading and reviewing YA, I also write it.
When and why did you start your blog?
I started my blog in December of 09. I used to only do YouTube reviews, which I still do, but I saw one of the people I was subscribed to on YouTube also had a book blog. I thought it looked really fun and decided to start my own.
What is your blog all about? Any cool features you want to share?
I do the obvious, review young adult. I also interview the authors of these great books. I have giveaways, which are always fun. I do IMM and have my own blog feature "Future Favorites", which spotlights 5 upcoming YA books a week.
What are some of your favorite genres and/or books currently?
Well I mostly read YA, but also read MG and some adult books. I really like paranormal romance, fantasy, and anything fiction.
How do you find out about the books you read?
From bloggers, goodreads friends, and other reviews I see and think "I want to read that book!"
Any tips or advice for those starting or thinking about starting a blog?

Don't do it just so you can get free books. Don't do it for followers. Do it because you genuinely love reading and reviewing books and want to share your honest opinions on them.


Contest Alert!

Alex is currently having a contest for Twice Bitten by Chloe Neill. Ends June 30th, so hurry up and enter!

Thank you Alex for stopping by and sharing more about your blog! Stay tuned for a guest review by Alex - a review of a book that I REALLY want to read!


If you're interested in being a spotlighted blogger, please fill out this form.