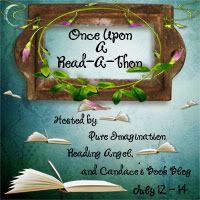 So, I didn't do a ton of actual reading, but I did listen to my audiobook for a good long while - doing housework, etc.
Here's what I read:
Young Bess
by Margaret Irwin (finished, about 200 pages)
The Sorcerer of Sainte Felice
by Ann Finnin (read about 30 pages, 200 pages left)
The Midnight Charter
by David Whitley (audiobook) (listened to about 3 hours, about 7 hours left)
And I'm doing all three of the Mini-Challenges posted for today.
Book Crazy
challenged us to find music or a picture that reminded us of a favorite character or book. This song by Halestorm really reminds me of the relationship between Katniss and her relationship with Peeta in The Hunger Games Trilogy. Or rather.. my feelings on it? What do you guys think..
For
I Just Wanna Sit Here and Read!
, I submitted this comment:
1. The song I would choose is a Gregorian Chant of Salve Regina -
http://www.youtube.com/watch?v=d5p_U8J0iRQ&feature=related
2. I am reading The Sorcerer of Sainte Felice by Ann Finnin and just finished Chapter 7.
3. At the end of the chapter there is a ceremony that takes place and one that needs concentration and takes place in the monastery, so I thought of Gregorian Chant.
And lastly, for
The Eager Readers
' challenge, I just have to tell you a few of my favorite literary couples.
1. Katsa and Po from Graceling by Kristin Cashore
2. Patch and Nora from Hush, Hush by Becca Fitzpatrick
3. Yelena and Valek from Poison Study by Maria V. Snyder
4. Vlad and Cawti from Steven Brust's Vlad Taltos series