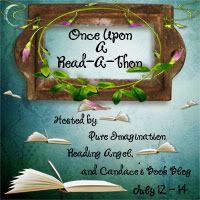 So, I didn't do a ton of actual reading, but I did listen to my audiobook for a good long while - doing housework, etc.
Here's what I read:
The Sorcerer of Sainte Felice
by Ann Finnin (finished, about 200 pages read)
The Midnight Charter
by David Whitley (audiobook) (listened to about 2 hours, about 5 hours left)
Inside Out
by Maria V. Snyder (read about 50 pages, e-book)
This is Me From Now On
by Barbara Dee (read about 40 pages)
So, altogether about 4-5 hours of reading put in. I spent some time with the hubby watching America's Got Talent and some anime and a walk and meals and whanot.
And I'm doing all three of the Mini-Challenges posted for today.

Confessions of a Bookaholic
challenged us to answer some questions:
1. Tell me what makes you the most emotional when you read it in a book.
I think that what really gets me is losing some traumatically, like in the middle of the book, not at the beginning when you barely know them - but when a character dies who you love or the main character loved.. I think that really gets to me emotionally.
2. Leave a comment telling me what book has made you the most emotional.
Off the top of my head, Twenty Boy Summer by Sarah Ockler - probably the closest I've gotten to tears in a while.
Lauren from
Lauren's Crammed Bookshelf
asked us to review the book we've finished during the readathon that we liked best so far. I'm going to do a mini-review and will have the lengthier review posted later this week.
This book just blew me away. The book throws you right into the plot, young Michael being on the pyre waiting for the flames to take him to hell for being a sorcerer's apprentice. But when Abbot Francis saves him, he is brought into a whole new world of alchemy, sorcery, and the purist form of spirituality I've read in a while.

I really loved this book and it's wrapped up enough to be a stand-alone, but I just want to learn more about Michael and see him grow. It's so different from what I've been reading lately - melding sorcery with religion and in a way that really is quite moving.

Definitely a highly recommended read!
And last, but not least is the challenge from
A Blog About Nothing
. And well, this is the tricky part. We're supposed to cast a book we'd like to see turned into a movie or TV show.
Well, since I just finished The Sorcerer of Sainte Felice, I think I'm going with that one.
Sadly, there's only one short female role, so I had to dig for some serious adult male actors.
Michael, our main character. (played by William Moseley)
And Abbott Francis (played by Craig Walsh Wrightson)