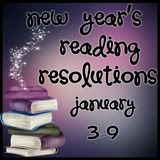 Hey Guys, April here. Happy New Year to everyone. I hope everyone stayed safe while having fun. I had already signed up for this blog hop giveaway and when I did I had originally said US only. But Kristen decided to contribute so we have double the fun. We have one prize for US only residents. Then we have another prize for ONLY International residents. So, click read more and find out the prizes we have.


For the US residents Kristen has an ARC of Across The Universe by Beth Revis to giveaway.

Description: (from Goodreads) A love out of time. A spaceship built of secrets and murder.

Seventeen-year-old Amy joins her parents as frozen cargo aboard the vast spaceship Godspeed and expects to awaken on a new planet, three hundred years in the future. Never could she have known that her frozen slumber would come to an end fifty years too soon and that she would be thrust into the brave new world of a spaceship that lives by its own rules.

Amy quickly realizes that her awakening was no mere computer malfunction. Someone--one of the few thousand inhabitants of the spaceship--tried to kill her. And if Amy doesn't do something soon, her parents will be next.

Now Amy must race to unlock Godspeed's hidden secrets. But out of her list of murder suspects, there's only one who matters: Elder, the future leader of the ship and the love she could never have seen coming.

For International ONLY residents I'm giving away a book from bookdepository. You will get to pick you book as long as it is under $10.
Giveaway is open from Jan. 3 to Jan. 9 at midnight (Central time)

You must fill out the form and specify if you are a US or International resident.

If you win you will have 48 hours to respond to our e-mail or a new winner will be picked.