Today, I have a great blogger with me who has one of the prettiest blogs I've seen in a while. She's got a great mix of book genres that she reviews and is just an all-around nice person.


Name: Misha
Nickname and/or blog name: My Love Affair With Books
Blog URL: http://books-love-affair.blogspot.com/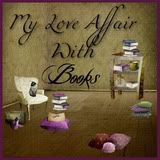 Tell me a bit about yourself.


I am 21 years old, currently doing my post-grad in Psychology. I have been a lover of books since I was just 6 years old. I am also a book hoarder and buy books at a greater speed than I can read them :D



When and why did you start your blog?


I started it on July 2010. I love talking about books and starting a book blog seemed perfect for rambling about books. Also, I was quite motivated by seeing other blogs.



What is your blog all about? Any cool features you want to share?


Being an eclectic reader, readers will find reviews of different kind of books on my blog. My sister, who is a big fan of fantasy novels, is now the co-owner of My Love Affair With Books. So you can find reviews of fantasy novels as well. My blog also has some features like Friday Fantasize, Blast from the Past, What's New Wednesday etc.



What are some of your favorite genres and/or books currently?


I am an eclectic reader. I love literary fiction, historical fiction, Women's fiction, suspense, YA and Classics.



How do you find out about the books you read?


Book Blogs, of course! Thanks to all the fabulous bloggers , my TBR seems to be expanding at a dangerous rate.

Any tips or advice for those starting or thinking about starting a blog?
Blog to have fun and share your bookish thoughts! Don't be afraid to speak your mind and don't let book blogging become a chore.




Contest Alerts:






Thank you Misha for telling us more about yourself and your blog.





If you're interested in being a spotlighted blogger, please fill out this form.