Today we have a blogger who just got back into the swing of reading and blogging in October. I'm loving her blog so far and hope you guys learn more about this great blogger today.

Name: ReaganStar
Nickname and/or blog name: ReaganStar/StarShadow
Blog URL: http://star-shadowcreativeconcepts.blogspot.com/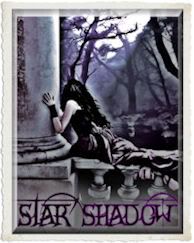 When and why did you start your blog?
I started in October of 2009, I had a minor back surgery keeping me at home so I figured why not...I can share my Reads, Creativeness and Favorite Authors
What is your blog all about? Any cool features you want to share?
I am trying to keep my blog about books, I am not a huge reviewer I will give a few opinions if I truly love the book. I have a weekly Author Spotlight that doesn't just focus on a book or a series. Instead, it focuses on both the Author and ALL of the books they have written, as well as a little FAQ's for the Author. Most authors have agreed to some book or swag type of giveaway and so I look forward to showing each and every one of them off in the Spotlight.
What are some of your favorite genres and/or books currently?
When I was younger I was only into mystery and thriller type books such as Christopher Pike. Then this past year, thanks to my wonderful boyfriend, I have gotten back into books and reading. I am enjoying most Young Adult books as well as some Paranormal or Fantasy Romances.
How do you find out about the books you read?
I actually find most of them through favorite bloggers. Their reviews and their favorites make me look into books I would of never found otherwise.
Any tips or advice for those starting or thinking about starting a blog?
I would just have to say email some of your favorite bloggers, ask questions, get tips and advice from them. After all, most bloggers love speaking with there followers.
Thank you ReaganStar for sharing more about your blog! I love her weekly author events, they're great fun!
Are you a new blogger too? Or just getting back into the swing of blogging? Do you want to be featured on my blog? Shoot me an email at dragonzgoil (at) gmail (dot) com.